Anniversaries are important milestones that deserve to be celebrated. They mark a long journey of love and partnership, so what better way to commemorate such a special occasion than with a loved-up anniversary party? Whether it's your first or 30th anniversary, every year you're together is worth celebrating. This article will explore a range of decoration ideas to make your next anniversary party unforgettable.
Make your anniversary party extra special by choosing a theme. The theme could be as simple as your favourite colour or something a little more elaborate, like a casino night or even a recreation of your wedding day!
If you and your partner have sweet tooths, this is the theme for you! Decorate your party venue with a dessert buffet, including cakes, doughnuts, chocolates, sweets and pastries. You could go for the Willy Wonka's chocolate factory look and distribute dessert stations across the venue, or you could go for a more elegant and sophisticated theme that centres around chocolate-covered strawberries and champagne. Consider setting up cupcake decoration stations or an eating competition for entertainment!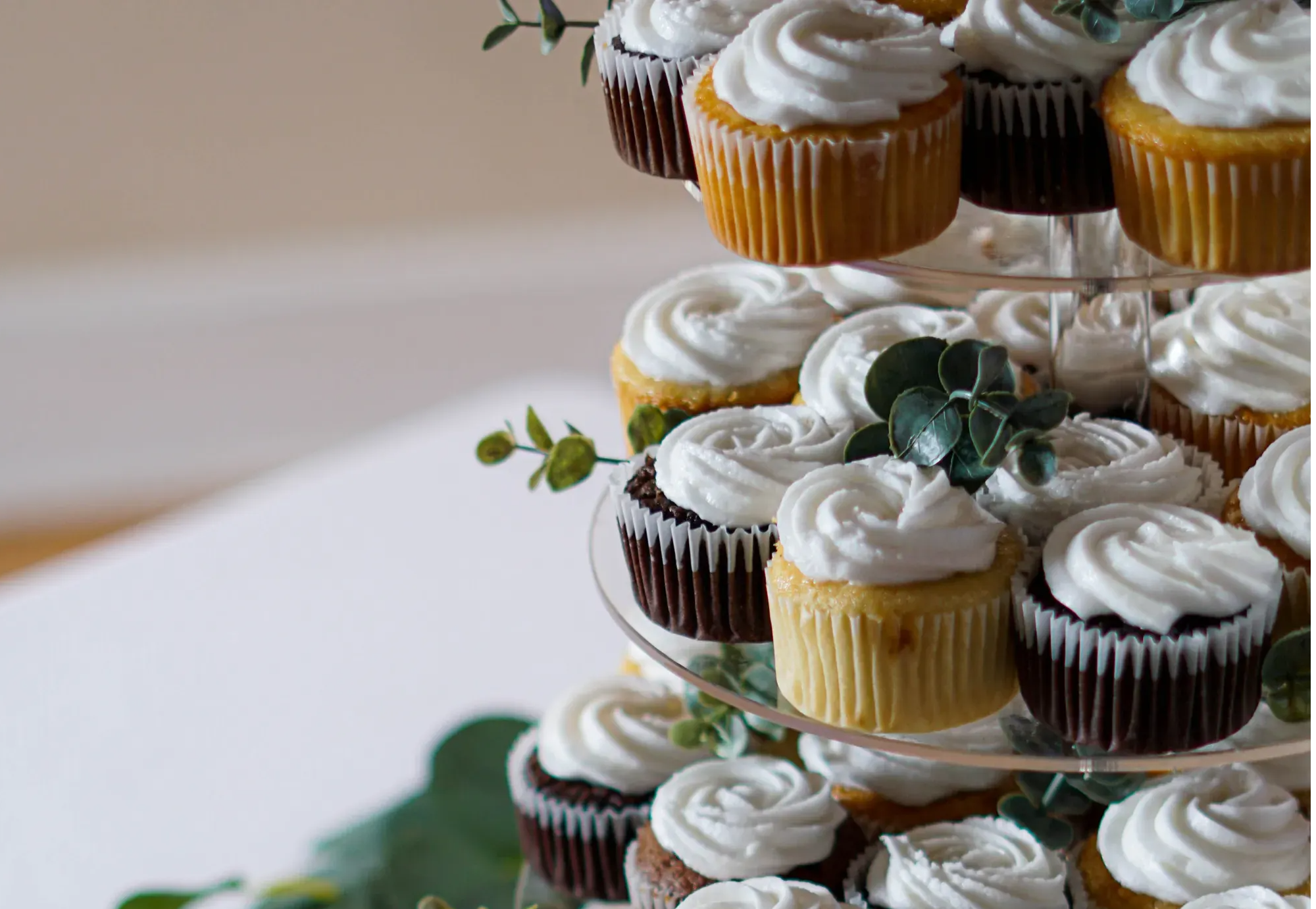 If you and your partner love to travel or plan to travel in the future, why not have a travel-themed bash? Highlight all the places you've travelled together, or focus on specific countries or cities that you loved. A good city to choose for this theme would be Paris, the city of love. Think rose floral arrangements, Eiffel Tower backdrops, "oh la la" helium balloons and elegant anniversary banners.
If you're an outdoor enthusiast, why not let nature be your decorator and throw a scenic anniversary party outdoors? Weather permitting, of course. You could organise a bonfire, a BBQ or a formal party in landscaped gardens to celebrate your anniversary.
Consider the casino night theme if you envision a classy anniversary party. Picture this: black tie dress code, poker, blackjack, roulette tables, and waiters handing out glasses of champagne. You could set a roaring twenties dress code to make the atmosphere a little flirtier. Who doesn't love a fancy dress party?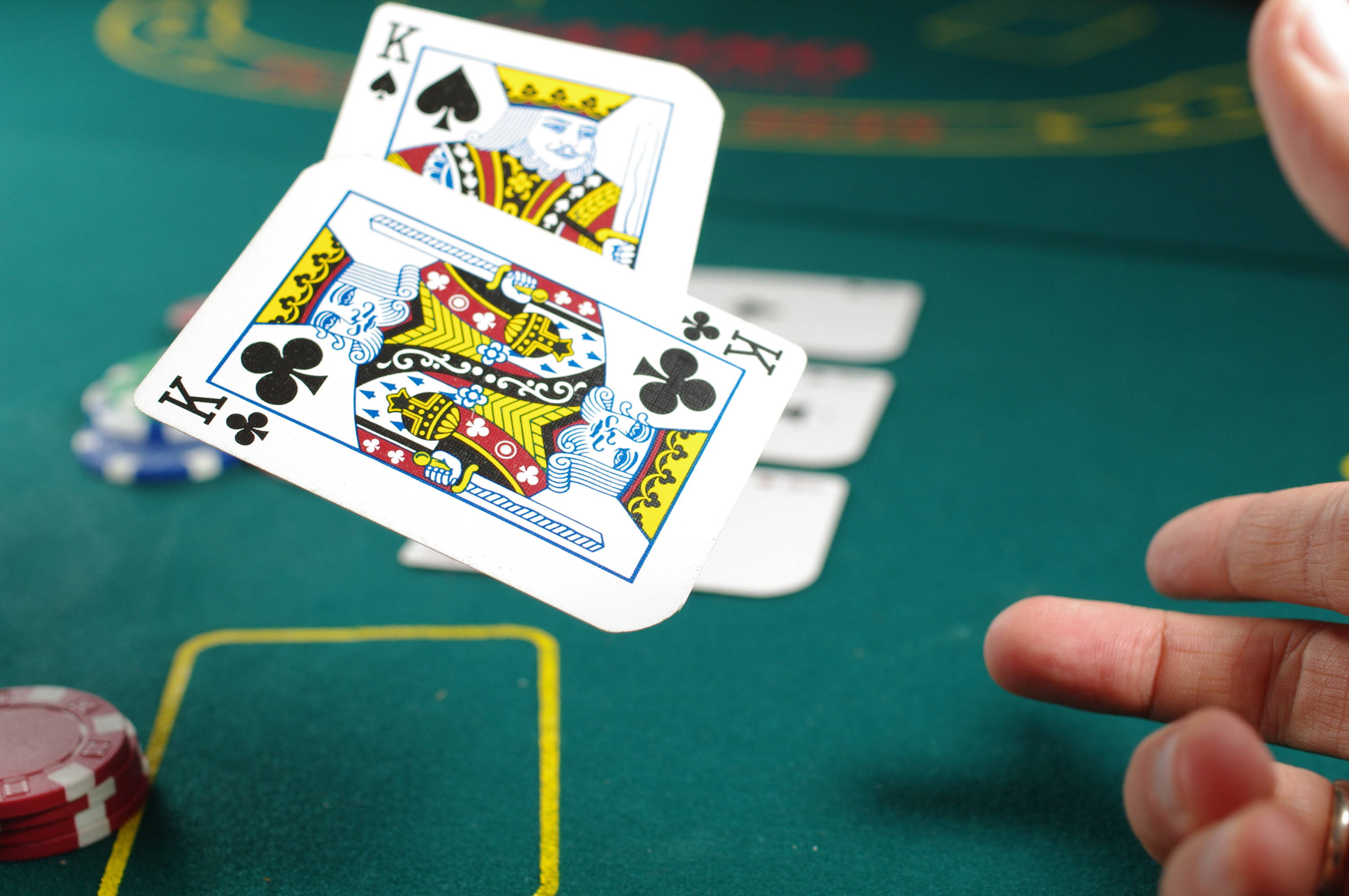 If you got married in the winter, why not have a winter wonderland-themed anniversary party? This theme is perfect for couples that love the magic of winter. Think snowflake ornaments hanging from the ceiling, fairy lights, fluffy white rugs, floral arrangements sprayed white and maybe even a snow machine!
The tables are one of the main focal points of any celebration, so you need to make sure they look the part! Here are a few ideas to make the tables stand out at your anniversary party:
Flowers are a classic choice for table decorations. It's easy to see why; they add a touch of elegance and sophistication to the venue. Choose flowers that match the theme of your party, or simply opt for your partners' favourite blooms. Consider using a range of flowers at different heights to add visual interest to the space and eye-catching vases. It's also important to consider the scents the flowers you choose will omit. Some flowers, like roses and lilies, can fill the room with a strong aroma, which may be uncomfortable for some guests in strong concentrations.
Another way to make the tables stand out is to create candle arrangements. Candles provide soft lighting to create a romantic, intimate atmosphere. Why not use them in combination with your favourite flowers to fill the middle of the table? An easy and affordable way to incorporate candles and greenery into your table is to place tealights in glass containers and surround them with eucalyptus for an elegant table centrepiece.
Table runners and colour and texture to your tables. Choose a fabric that complements your theme, such as lace for a rustic theme and velvet for a more luxurious one.
Make your guests feel extra special by creating personalised place cards. Not only do they guide guests to their seats, but they also serve as a wholesome keepsake to remember the celebration by. To amp up the personalisation, you could include a small message on the back of each place card saying thank you for coming or a heartfelt message.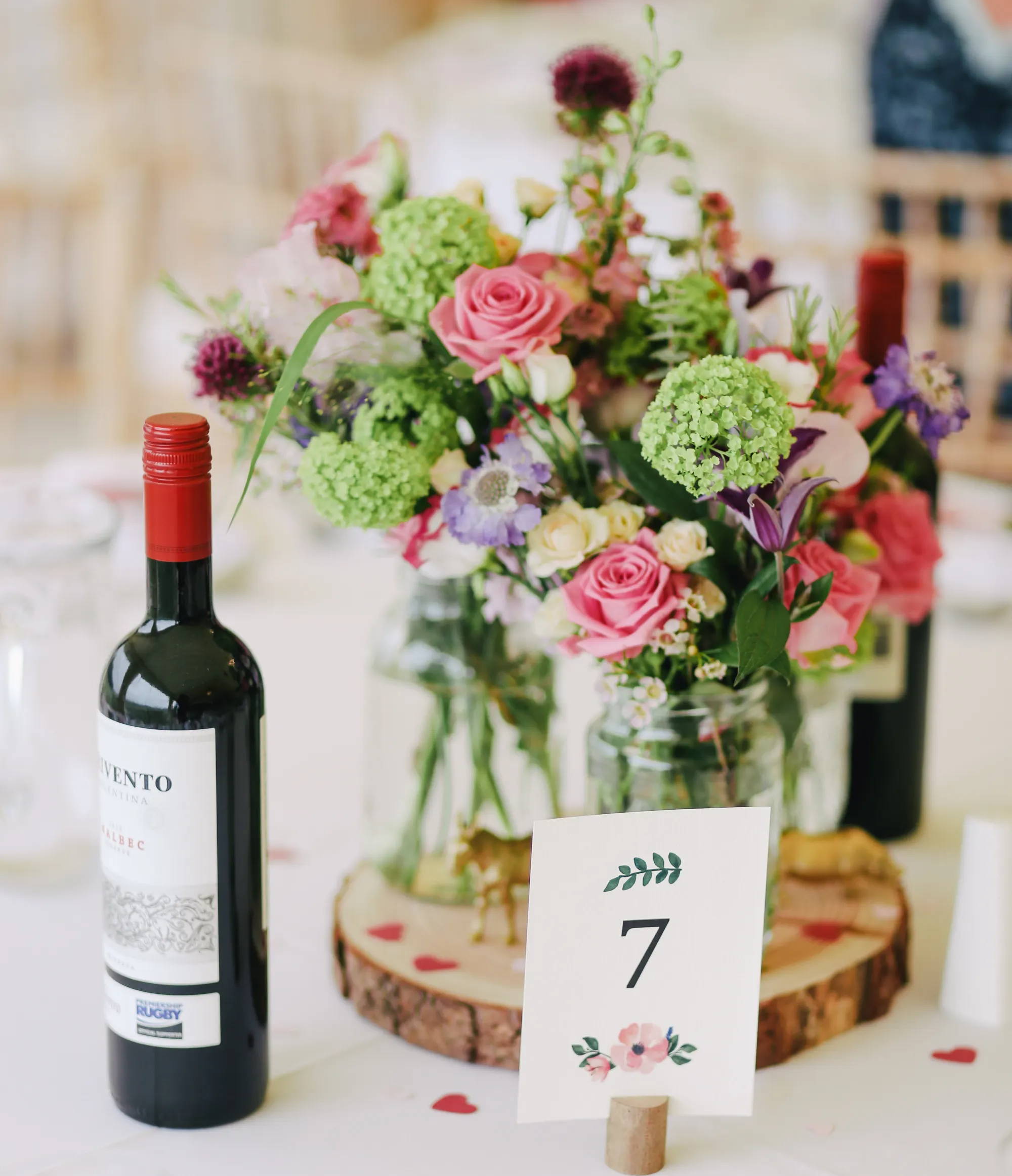 If you got married in the summer and are therefore able to host the party outdoors, we've got a few decoration ideas for you to mull over:
A floral arch is the perfect focal point for an outdoor celebration. It can serve as a stunning backdrop for photos or to mark the entrance. Purchase a floral arch ready-made online, or make one yourself if you feel creative! Decorate the arch with flowers to match your anniversary party theme, and drape fabric and fairy lights to give the arch a truly magical feel.
Fairy Lights and Lanterns
Nothing makes a space feel more magical than fairy lights and lanterns. They provide a warm, inviting glow that will make your party feel effortlessly welcoming and cosy. Drape fairy lights over trees, hang them on gazebos, create a canopy over the dining area and line pathways with small lanterns. You can purchase fairy lights in various fun shapes, such as stars, flowers and hearts, for a whimsical touch.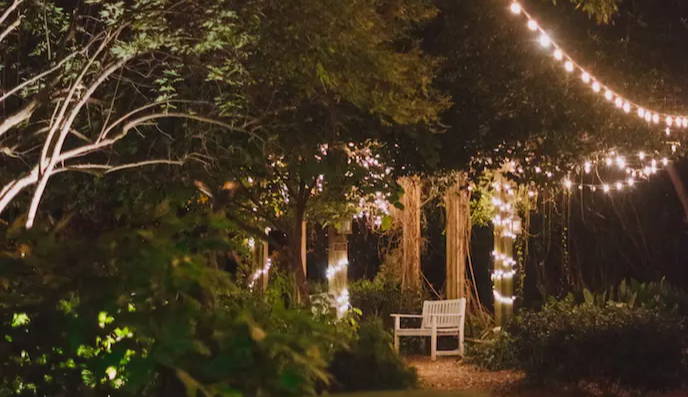 Match your outdoor furniture to the theme of your party for a cohesive look. If you're going for a rustic theme, get some wooden tables and chairs to give the area a cosy feel. Alternatively, if you want to create a more romantic setting, iron furniture might be more suitable as it creates a sleek, contemporary look. The most important thing is to have enough seats to go around!
It's a party, so you're going to need a well-stocked bar! An outdoor bar is a fun but functional addition to your outdoor anniversary party. You can serve guests cocktails made by yours truly, or hire a mixologist to create delicious concoctions for you and your guests. It all depends on your budget. Decorate your bar with fairy lights, flowers and personalised signs to make it stand out, and don't forget to provide fun drinks accessories such as cocktail umbrellas and colourful straws.
If you're on a relatively tight budget or you're a creative person, why not create some DIY decorations for your upcoming anniversary party? Here are some DIY decorations ideas for you to consider:
A photo collage is a sentimental decoration for your anniversary party. It's a lovely way to showcase your favourite moments from many years with your partner. You have a couple of options: create a large collage on a wall or smaller collages to place at each table. Add captions and quotes to the collages for a personal touch or to add a bit of humour.
Creating a DIY welcome sign is a great way to greet your guests and set the tone for the rest of the party. Creating a homemade sign is surprisingly easy, because all you'll need is a board, paint or marker pens and some decorations such as flowers or ribbons. Creating a DIY welcome sign is a fun and rewarding mini-project that elevates your anniversary party venue!
Add some colour to your venue by creating your very own bunting. It's also a fun activity you and your partner can do together before the party! Find some fabric or coloured paper in the colour or pattern of your choice and add letters to spell out relevant words such as "anniversary", "love", or "celebrate".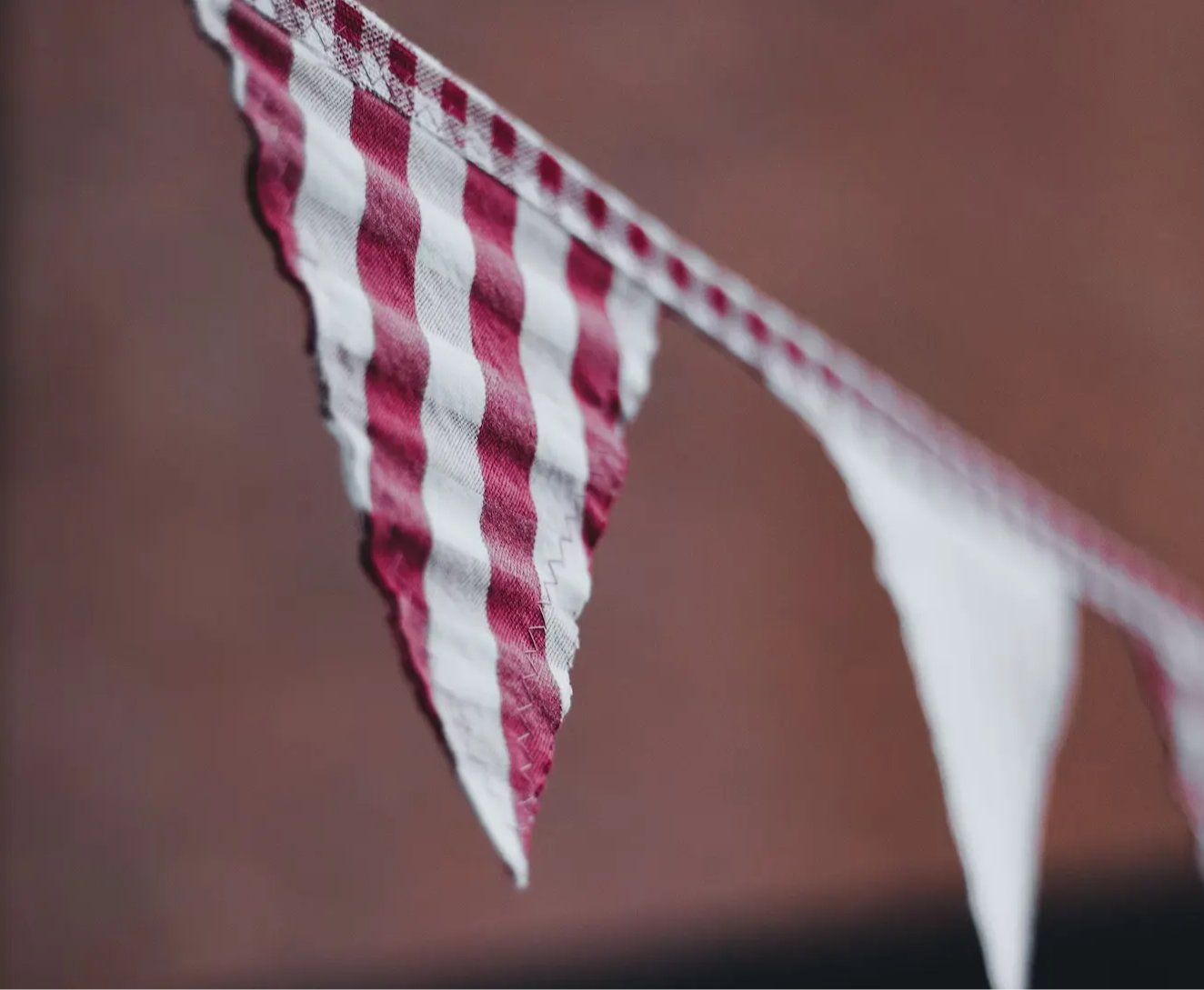 Setting up a memory jar station gives guests the opportunity to share their favourite memories with you and acts as a sentimental keepsake for you and your partner to cherish for years to come. Provide small pieces of paper and pens, either on the tables or on a designated memory jar table, so guests can jot down their messages and post them into the jar. This also gives you the opportunity to decorate the jar to match your party theme!
Handing out party favours is a lovely way to thank your guests for attending your anniversary party. You could write little handmade thank you notes expressing gratitude or homemade treats such as cakes or cookies. Another option is to make personalised items such as coasters with your names and the anniversary date. It's completely up to you!
Anniversaries are about celebrating the love you and your partner share, and an anniversary party is the perfect way to mark the occasion! The right decorations can help set the tone and ambience of the party, making it memorable for your guests. With these decoration ideas, such as anniversary banners, photo collages, memory jars and table centrepieces, to name a few, you can create an atmosphere of love and joy.